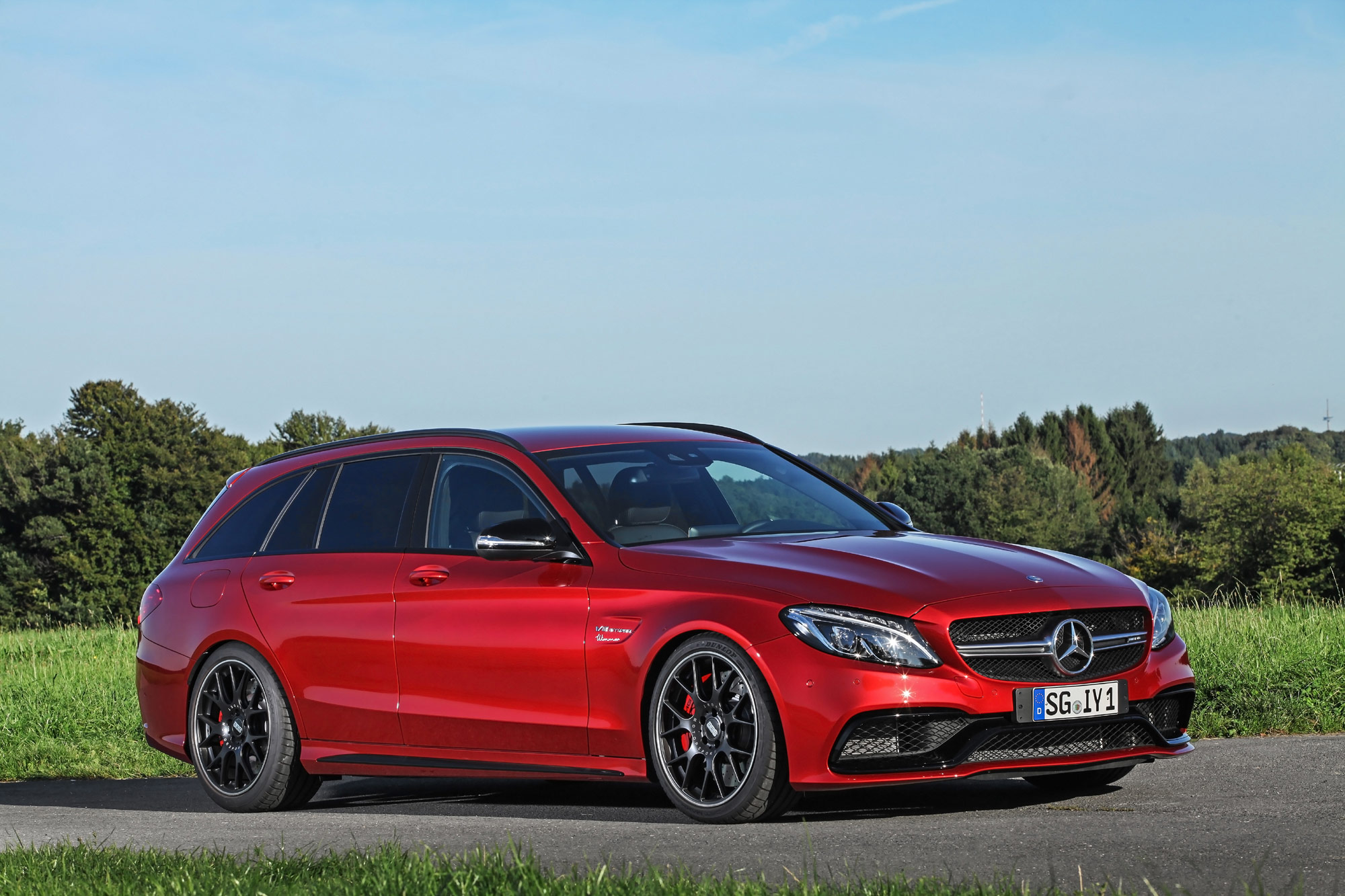 Die Bereiche elektronische und mechanische Leistungssteigerungen – d. h. im Klartext Chiptuning, Motorumbauten und der Auspuffanlagenbau – sind seit über 20 Jahren das Betätigungsfeld der Firma WIMMER Rennsporttechnik in Solingen. Unter modernsten Bedingungen und entsprechend den Vorgaben der TÜV-Zertifizierung arbeitet das Team um Geschäftsführer Thorsten WIMMER in einer 2.400 m² großen Halle, wenn es um Motorbelüftung, Auspuffanlagen, Fahrwerkstechnik, Sportkupplungen, Bremsanlagen und Kfz-Zubehör geht.
[contentblock id=1 img=adsense.png]Der Proband ist in diesem Falle eine rotgewandete und von AMG bereits bestens bestückte neue C-Klasse namens C 63 S mit einer Serienleistung von 510 PS (=375 kW).
Für die Optimierung der Software werden die Daten zur Leistungssteigerung im Hause WIMMER individuell, passend zu den Seriendaten und dem vorhandenen Steuergerät erstellt. So können die "stillen Reserven" sorgenfrei genutzt werden, die jedem Motor von Hause aus mitgegeben werden. Sodass dabei der Motor keiner unnützen Belastung ausgesetzt wird.
Der nächste Ansatzpunkt ist die straßenzulässige Sportauspuffanlage. Handgefertigte, staudruckoptimierte Abgasanlagen aus Edelstahl, mit Vor- und Endschalldämpfer mit freundlich-sonorem und sportlichen Klang, sind eine markenunabhängige Spezialität des Solinger Unternehmens. Diese werden wahlweise mit oder ohne Sportkatalysator und Hosenrohr sowie elektronischer Klappensteuerung passgenau für jedes Fahrzeug angefertigt. Neben einem satten sportlichen Klang ist auch hier eine Leistungssteigerung gegeben.
Die Gesamtleistung dieser modifizierten C-Klasse mit Sportauspuff, Sportkatalysator, Hosenrohr und angepassten Daten beläuft sich auf 640 PS (= 471 kW). Das ist eine stattliche Steigerung von 96 kW oder 130 PS.
Dass die Rad-Reifen-Kombination als Verbindung zwischen Auto und Straße die nicht immer einfache Aufgabe hat, die geballte Leistungskraft des Fahrzeuges möglichst ohne Verlust auf die Straße zu bringen, ist eine vielfach unterschätzte Tatsache. Im vorliegenden Beispiel lässt das WIMMER-Team diese Aufgabe einen Satz BBS-Felgen vom Typ CH in den Abmessungen 8,5 x 19 Zoll an der Vorderachse bzw. in 9,5 x 19 Zoll an der Hinterachse übernehmen. Als Bereifung wurden hier die adäquaten Sportpneus gewählt. In dem Zusammenhang sei noch auf das speziell von KW entwickelte Gewindefahrwerk verwiesen, dass nun eine zügige Kurvenfahrt dank perfekter Straßenlage zulässt.
Um die unbändige Power dieser erstarkten C-Klasse (im wahrsten Sinne des Wortes) zu erfahren, gibt es nur eine Lösung: optimieren und losfahren. Nähere Informationen zu diesem C 63 S sowie die gesamte Produktpalette der Solinger direkt bei WIMMER Rennsporttechnik Solingen GmbH
The area of electronic and mechanical power upgrading – which means in clear chip tuning, engine and exhaust system conversions – is field of activities of WIMMER Rennsporttechnik at Solingen since more than 20 years. Under most recent conditions and corresponding to the MOT certification demands, the team around managing director Thorsten WIMMER works in a 2.400 m² workshop, if it matters to make works on engine aeration, exhaust systems, chassis techniques, sports clutches, braking systems or car accessories.
[contentblock id=1 img=adsense.png]The object of experience is in this case – a red painted and already best equipped by AMG C-class model named C 63 S with serial power of 510 HP (=375 kW).
For software optimization, the power uprating data are being worked out at WIMMER's individually, matching to the serial data and the existing control unit. This way, it is possible to profit from the "secret reserves", that are inside every engine ex works, without any trouble, so that the engine will not be subjected to any unnecessary strains.
The next point of attack is the road admitted sports exhaust system. Handmade dynamic pressure optimized stainless steel exhaust systems with pre-silencer and axle back exhaust with friendly-sonorous and sportive sound are brand independent specialty of the Solingen enterprise. These are being custom made for every car, optionally with or without sports cat and Y-pipe and electronic valve command. Besides full sportive sound, there is also a power uprating included.
The total power of this modified C-class with sports exhaust and cat, Y-pipe and customized data runs up to 640 HP (= 471 kW). This is a significant considerable uprating by 96 kW or 130 HP, respectively.
The fact that the wheel-tire-combination as link between road and car has the not always simple task to transmit the concentrated car power onto the road, if possible without losses, is not seldom underestimated. In the present case, the WIMMER team resolves this kind of task by means of BBS type CH rims dimensioned 8.5 x 19 inches on the front axle and in 9.5 x 19 inches on the rear axle. As tiring, suitable sport tires were chosen. In this context might be mentioned the developed by KW coilovers, permitting speedily cornering thanks to the perfect road holding.
In order to experience the wild power (in the truest sense of the word) of this upgraded C-class, there is only one solution: Make the optimization and hit the road!